City of Guelph Partners with HONK to Launch Contactless Parking Pilot

City of Guelph Partners with HONK to Launch Contactless Parking Pilot
Drivers in Guelph can now pay for parking on their phone — without downloading an app.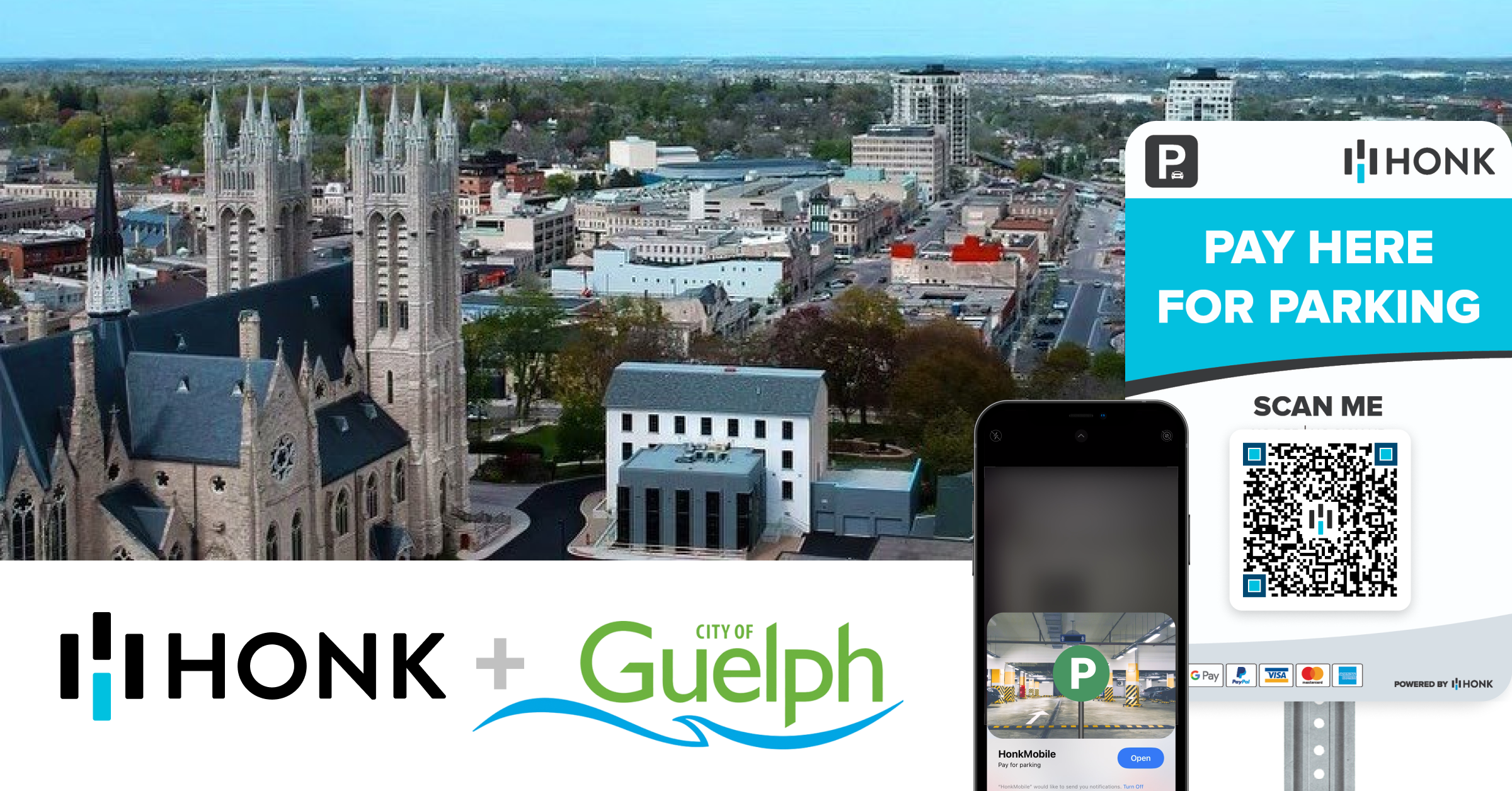 GUELPH, ON, May 18th, 2021 – HONK, North America's leading provider of contactless payments for parking, announced today a pilot parking program with the City of Guelph. Starting immediately, residents and visitors who park at lower Delhi Street will have access to the safest, most user-friendly contactless payment experience in Canada. Drivers can simply tap or scan their phone on a HonkTAP smart station for a fast, touch-free guest checkout experience or choose to download the free HonkAPP from the App Store or Google Play.
"The City is partnering with HONK to offer a new, easy-to-use payment solution for parking. This pilot project on lower Delhi Street will be the first step in delivering on our digitization strategy by focusing on convenience for our customers," says Jamie Zettle, Program Manager, Parking. "Supported by HONK's innovative solutions, patrons will have another way to find and pay for their parking."
Located onsite, HonkTAP smart stations allow drivers to pay for parking with a quick tap or scan of their phone. With no app to download or pay station to touch, paying for parking is easier and safer than ever. Drivers can also opt to receive text reminders when their parking is set to expire, and can add more time to the meter directly from their phone.
For app lovers, the HonkAPP is another contactless payment option for drivers who wish to pay for parking and manage a session directly from their phone. Users can save their most frequented parking spots for even faster access to pay. As with the HonkTAP option, drivers can pay via Apple Pay, Google Pay, PayPal, Interac Debit, and all major credit cards.
"HONK is thrilled to partner with the City of Guelph to offer our best-in-class contactless payments technology," says Michael Back, HONK Founder and CEO. "We're excited to expand our presence in cities across Ontario and give drivers access to the best parking experience in the country."
About Honk
Honk is North America's leading provider of safe, contactless payments for the parking industry. Since 2013, Honk has been creating touchless solutions to make paying for parking easier, faster, and safer for drivers. Motorists can download the HonkAPP to search and pay for parking, and extend their parking session right from their phone. Or they can opt to use HonkTAP smart stations for a contactless way to pay. Simply tap or scan a mobile phone — no app download or pay station required. Honk is trusted by millions of drivers, and is accepted at over 3,000 locations across the United States and Canada.
For information, interview and images, please contact: