HONK and Robbins Parking Bring Contactless Parking to the City of Nanaimo
HONK and Robbins Parking Bring Contactless Parking to the City of Nanaimo
Starting tomorrow (May 20), drivers in Nanaimo will have access to the safest and easiest way to pay for parking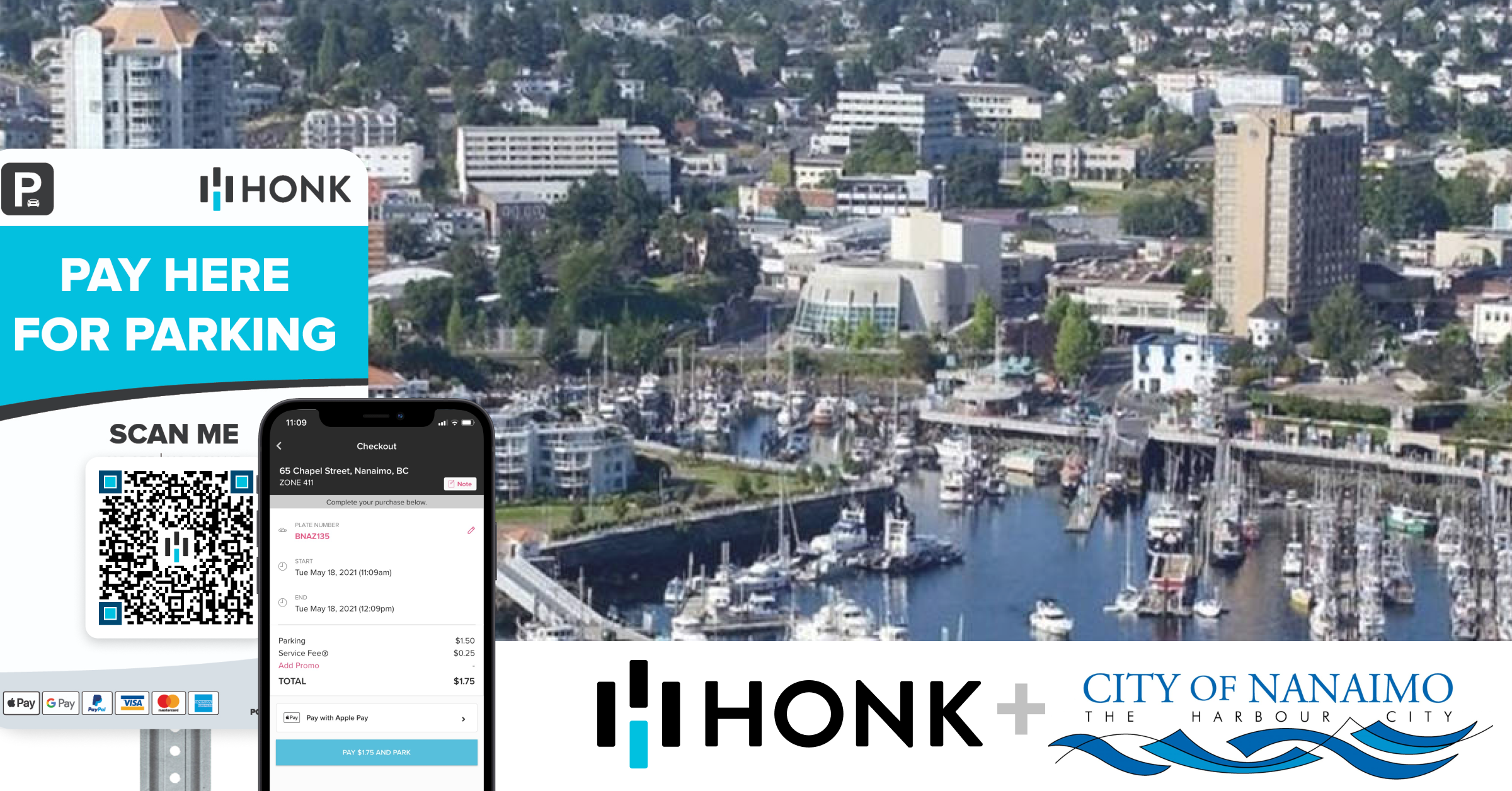 NANAIMO, BC, May 19, 2021 – HONK, North America's leading provider of contactless payments for parking, and Robbins Parking, Vancouver Island's premier parking solutions provider, team up to bring touch-free payments to off-street municipal parking in the City of Nanaimo. Starting tomorrow, residents and visitors can skip the meter and safely pay for parking from the convenience of their mobile device by downloading the free HonkAPP from the App Store or Google Play.
The HonkAPP makes it safe and simple for drivers to pay for parking. Drivers simply select the location, amount of time needed and choose their preferred payment method. HonkAPP accepts all forms of payment, including: Apple Pay, Google Pay, PayPal, Interac Debit and all major credit cards. What's more, users can opt in to receive a 15-minute text reminder before their parking session is set to expire, with the option to add more time to the meter from afar.
"At Robbins we pride ourselves on creating the best parking experience for our customers," says Calvin Johnston, Robbins Parking, General Manager. "Our partnership with HONK brings enormous benefits to drivers in Nanaimo as it supports safe, easy and accessible parking options for every driver."
"The demand for our contactless payment solutions has skyrocketed over the past year – Drivers are seeking out an alternative to high-touch pay stations," says Michael Back, HONK Founder and CEO. "Expanding our availability in British Columbia gives more drivers access to the safest parking experience in the country."
About HONK
HONK is North America's leading provider of safe, contactless payments for the parking industry. Since 2013, HONK has been creating touchless solutions to make paying for parking easier, faster, and safer for drivers. Motorists can download the HonkAPP to search and pay for parking, and extend their parking session right from their phone. Or they can opt to use HonkTAP smart stations for a contactless way to pay. Simply tap or scan a mobile phone — no app download or pay station required. HONK is trusted by millions of drivers, and is accepted at over 3,000 locations across the United States and Canada.
For information, interview and images, please contact: